Top 11 Moto CMS Templates – Your Easy Way of Launching a Website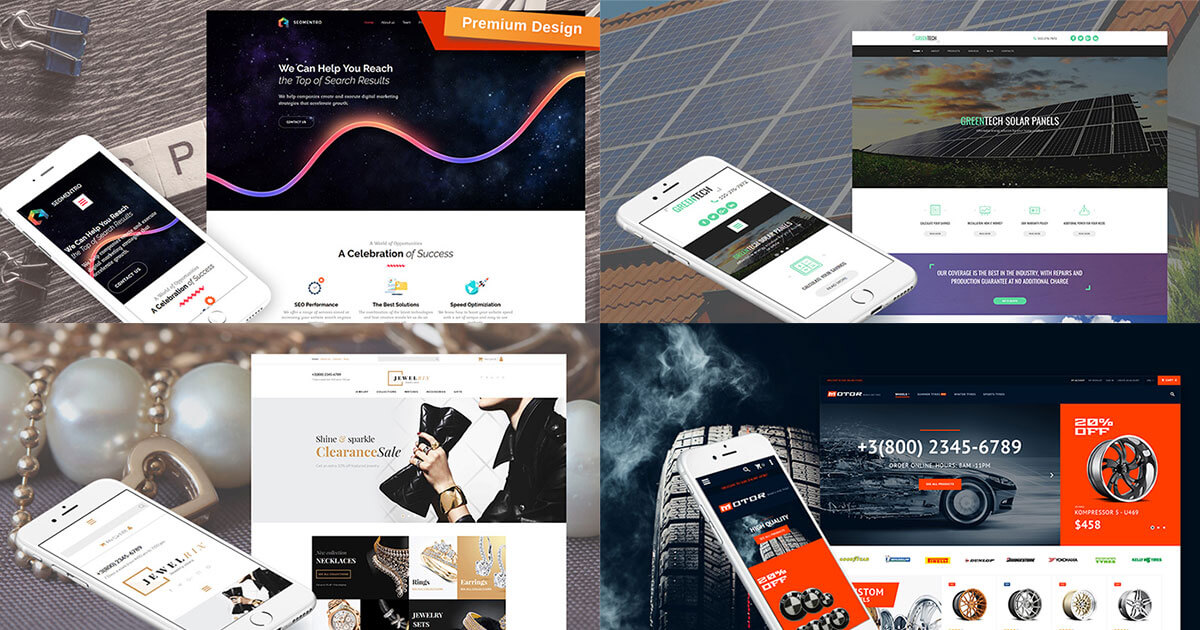 As you have already understood, this is a showcase of top Moto CMS templates. What are Moto CMS templates? These are design examples providing the vivid demonstration of the look and feel of a website created applying the latest version of MotoCMS website builder. This website builder is one of the most popular nowadays. In fact, Moto CMS 3.0 is a combo of state-of-the-art technology and contemporary web design trends. You should take a look at the collection of the best website builder layouts created by TemplateMonster to cater to the needs of their numerous customers by all means.
In case you are only going to get acquainted with Moto CMS 3.0 online website builder, here's some useful information. Moto CMS is a drag and drop website builder or, to be more accurate, a CMS website builder. It lets you create and customize your website even if you have no programming and coding knowledge at all. Moto CMS 3.0 website builder software has rich WYSIWYG functionality. It enables you to make easy and quick updates of a website and see all the applied amendments immediately.
It is super easy to create and operate the Internet resources built with this professional website builder.
Here are some of the major Moto CMS 3.0 website builder features you'll definitely love:
Responsive design. All websites powered by MotoCMS 3.0 are fully responsive and viewable on any last-generation digital, plus they load fast.
Rapid installation process. It takes nearly two minutes to install TemplateMonster's MotoCMS 3.0 simple website builder templates. All it takes is uploading the template files, creating a web server database and finally starting the automatic installation that will be completed in minutes.
Fast loading time. We guess this feature makes MotoCMS 3.0 one of the best website builders on the net. All MotoCMS-powered resources need significantly less time to load due to the brand-new system architecture. That is applicable to the admin section as well.
Vast control panel functionality range. If you will review the number of functions at your service in MotoCMS 3.0 online website builder, you'll see: Website Preview, Rasterize Object Function, Images Pre-load Function, Control Panel Rebranding, Under Construction Mode, Favicon Settings, XML Sitemap Generator, YouTube Player, Effects Management Tools etc.
Striking number of widgets. Moto CMS 3.0 provides you features that you can't get from a regular website builder online: Embed Widget, Google Map, Menu, Horizontal Divider, Container, Row, Google Web Fonts, Social Options, Background Options, Design Presets, Contact Form, Video Integration and many more.
Template switch possibility. Moto CMS website building software lets you replace one template with another. All data is stored in external files, so you don't have to worry about the information loss.
Moto CMS 3.0 templates are multi-purpose. You can use them for both personal and business related Internet projects. Hence, Moto CMS can be perceived as a full-fledged eCommerce website builder due to the large number of eCommerce themes available.
As you see, even a dummy will cope with launching a Moto , however, if you prefer professionals to do all the job instead of you, Service Center will take your worries away with greatest pleasure.
Well, are you ready to browse Top 11 Moto CMS Templates? Then, we wish you to have an enjoyable experience.
Education Moto CMS 3 Template
Transportation Responsive WP Theme

Real Estate WordPress Theme
Responsive MotoCMS Template for Jewellery Stores
Template 64378 is hidden ! Multipurpose Admin / Dashboard Template Admin Template
Solar Energy Co Responsive Moto CMS 3 Template
PowerPoint Template Business Presentation
Construction Materials Responsive Magento Theme
SEO Co Responsive Moto CMS 3 Template
Architectural Co Moto CMS HTML Template
Auto Services Magento Theme
SEO Foundations for Small Business Owners
---
---