How to Develop a Blooming Startup Business + Top 10 Templates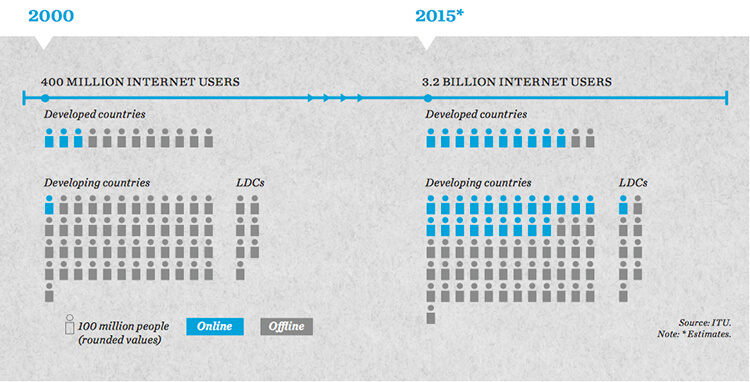 Develop All we are living in a web era. At the present time, people increasingly prefer opening their own online projects. Why? First, it is rather simple. Second, you can display your products/services/blog posts in a front of the huge audience. To clarify, there are more than 3 billion people, who are using the Internet. In other words, almost a half of the Earth's population are there on the web and possibly, each one of them can reach your website.
Owing to the rapidly growing internet community and the benefits that it brings, you really don't have to be rich to reach your goal. In this article we are going to share with you some tips on launching a startup in 2017 from scratch. In addition, we will give you a list of 10 powerful solutions, in order to give your business a quicker start.
Rule #1 – Just Start and Sell
Yep, it may sound strange, but that's the point – to create a startup, you need to begin from something. Certainly, first of all you have to define your business niche. But then, just give it a start. For example, create the first prototype, or write your first article. Moreover, to get your own project launched, you don't have to be innovative and sell the brand-new product. In fact, you can sell the existing products, but in a different, more interesting way. Just find an angle that will let you represent a product in a new way
Rule #2 – Don't Do Everything by Yourself
Although this point may sound simple and unnecessary, it is rather important to get help from the other entrepreneurs. In detail, this doesn't mean that you have to ask people to help you. Join the mastermind groups of your particular business niche, to get acquainted with the latest trends and your potential audience. The knowledge these people have, can be shared with you. Moreover, you will get such an inspiration, that will definitely come in handy.
Rule #3 – Start With Those Budget That You Have
Thanks to the digital era, you need to have a six-figure budget to launch a startup. First, think about the name of your business and buy a domain and get a hosting. Second, create a website. Yes, custom design can cost more than $5000, but there's another way – you can get your website launched in a couple of days, using a website template. It will cost you around $80. Such companies as TemplateMonster.com, are offering a huge library of the ready-made solutions, in order to save your time and money.
Another key point that we prepared for you, is the list of pre-made website themes. To demonstrate the variety of the templates, we've gathered 10 of the most impressive solutions for you. Including Magento fashion templates, web design WordPress themes, multipurpose PrestaShop and Joomla themes, you can build any website you want. Moreover, with a help of these themes, you will give a pleasant user experience to your potential clients.
Installing any of them would be very easy. However, in order to save your time, you can get your theme customized within 24 hours with a help of Service Center. Finaly, let's take a look at what we have prepared for you.
Monstroid2 – Multipurpose WordPress Theme
Monstroid is a revolutionary multipurpose WordPress theme. Owing to the Cherry Framework 5 and a pack of 16 pre-built child themes, you can showcase the content of your website in a preferable way. Moreover, it gives an incredible flexibility, so you could create a top-notch online project.
Intense – Multipurpose Website Template
The Intense Multipurpose website theme was created with the latest web design trends in mind, as well as it has an impressive functionality. Thanks to the multiple header and footer layouts and a pack of pre-built pages, you can adjust this theme according to any your needs.
Business Website Template
The name of this website template speaks for itself. If you aim to build a business website, then Starbis will be a perfect fit for your niche. Owing to the top-notch design, smooth navigation and a set of child themes, this theme will boost up your business to the next level.
PrestaShop Multipurpose Responsive Theme
In the first place, here comes an incredible design of this theme. Coupled with 10 skins and a built-in Mega Layout Builder, EvePrest allows you to enjoy customizing your website. It has never been so easy and entertaining!
Magetique – Premium Responsive Magento 2 Theme
In the same way, the Magetique Magento 2 theme allows you to adjust your online project with a pleasure. Designed to convert, it will definitely have an impact on your potential customers. In other words, the splendid design and intuitive shopping experience won't let any your customer leave a website without a purchase.
StoreFlex Multipurpose OpenCart Template
For the purpose of creating an online store, using OpenCart, we suggest you to choose the StoreFlex Multipurpose template. The layout builder, lookbook product presentation, client categories and multi-currency features will help your online store to stand out.
Jumerix Multipurpose Joomla Theme
As an illustration of the ready-made solution for the heavy website with a plenty of pages, we picked a Jumerix Multipurpose Joomla Theme. It has a VirtueMart e-Commerce integration and a smart UI web kit, so you can build even a fully-fledged online store, using this template.
Modicate Multipurpose Theme
Owing to the 50+ pre-built HTML pages, multiple header and footer layouts and amazing CSS3 animations, this multipurpose website theme is a great choice for a startup. The website, based on this theme will definitely impress each and every its visitor and will bring high conversions.
Evolution Business MotoCMS Template
Evolution business MotoCMS template is a must-have for those, who appreciate truly powerful tools. To clarify, the theme comes with 120 ready-made blocks. So customizing it into an independent project would be as easy as playing a game.
Manager Website Template
Accordingly to the parallax scrolling effect and smooth hover animations, browsing a website built with a Grand Vector theme will be rather entertaining. Powerful, yet extremely stylish, it is stuffed with different pre-designed layout blocks and is SEO-friendly.
As can be seen, launching a startup in 2017 is not as difficult, as it is considered. We hope we answered your questions about what you have to do to start your own online project. In case if you have any more questions or know other tips on building a website, feel free to leave a comment. Don't be afraid and become an online entrepreneur, after all it is rather simple nowadays. Good luck! 🙂
How to Attract the First 1000 Visitors to My New Website
---
---