10 Best WordPress Themes Of August 2017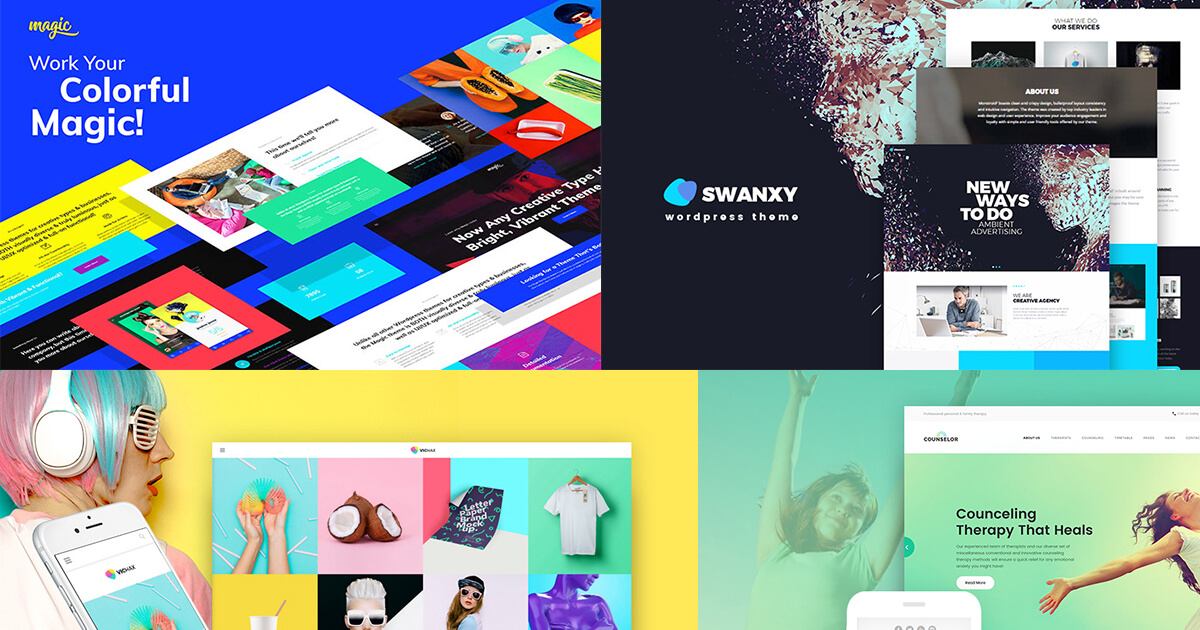 Nowadays there is a time of wide scale web progress. Web space is full of diverse sites and blogs. Each major company has a website, which provides its growth and evolution. Moreover, the success of the business directly depends on the website.
If you read this article, you probably have your own website, or you just curious about the creating one. As you certainly know, any type of activity needs to be promoted and improved. At the present time, the most productive way to express yourself is to create a website or a blog. There are a lot of ways that can help you to build a web page, such as builders, CMS, website templates, etc. The simplest way to do it is to use a content management system. There are a plenty of content management systems: Joomla, Drupal, Magento, PrestaShop, WordPress, etc.
Of course, you could say: "I don't want to use any CMS! I want a totally unique website, so I will hire a web-designer and developer, in order to create my website." Definitely, it makes sense, but custom website creating requires a lot of time, money and your energy. In contrast, if you use a WordPress or other CMS theme, you will definitely save your money and time. Additionally, theme installation and customization process will be as easy as ABC. It doesn't require you to have any coding skills.
Today we would like to focus on a WordPress CMS. Did you know that it is keeping 28% of the internet? WordPress is used by both quite new bloggers and such corporations as Spotify, IBM, New-York Times, and more others. Why? Simply, because this CMS has features, which will make website building and managing rather convenient, easy and pleasant. Firstly, there is a possibility to start using WordPress for free and boost customizing tools in future. At the same time, you can stay on the free basis if you want to. Secondly, this CMS gives you an opportunity to add a unique domain and manage it directly from WordPress.com. Thirdly, you get a power to create a blog, an entire website or 2 in 1 – it's up to you. And finally, there is a huge number of multifunctional, responsive and personalizable themes for WordPress CMS. You can find and view demo for hundreds of awesome WordPress themes at TemplateMonster. Please, mind that if you have any problems with the theme installing or customizing, you can go to the Service Center and get a high-quality help.
We are glad to present you the Top 10 WordPress Themes of August 2017, among which there are hotel, wedding, personal blog and also designer portfolio WordPress themes. We bet that you will like our theme selection! So, here we go!
Oceanica – Hotel Booking WordPress Theme WordPress Theme
Falero Wedding Photographer Theme WordPress Theme
Swanxy WordPress Theme
VicHax – Designer Portfolio WordPress Theme
Latify – Private Farm Responsive WordPress Theme
Magic – Multipurpose Creative WordPress Theme
HotelBliss – Spa & Resort Hotel WordPress Theme
Cup o' Java – Coffee Shop Responsive WordPress Theme
Identiz – Personal Blog WordPress Theme
Counselor – Counseling Therapy Center Responsive WordPress Theme
As you can see, our the main goal is helping you to create your website or improve an existing one in the most efficient way and save your money and time. We hope this article was useful and enjoyable for you. Please, feel free to leave a comments in a section below. We appreciate your feedback!
---
---